Darwin
now browsing by tag
Charles Darwin's Library
a cura della Biodiversity Heritage Library,
Si tratta di una biblioteca digitale unica nel suo genere: il progetto consiste infatti nella digitalizzazione integrale e nella ricostruzione virtuale del corpus dei libri posseduti, letti e commentati da Charles Darwin. Non soltanto, quindi, una bibliografia specifica sulle tematiche naturalistiche care allo scienziato, ma anche un modo per ripercorrere le letture del padre dell'evoluzionismo e osservare le sue annotazioni sui testi, i suoi appunti, in quanto traccia essenziale per comprenderne le intuizioni. Al momento sono già disponibili in formato digitale 330 volumi su un totale di 1480: si possono sfogliare online in versione facsimile o leggere in trascrizione, oltre che scaricare in varie modalità, selezionando ad esempio soltanto le immagini, o alcune pagine, o le annotazioni. Il progetto è supportato anche dalla JISC.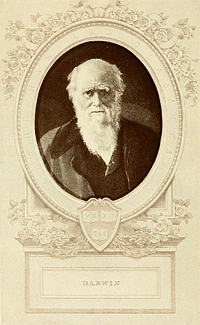 Darwin C. (1909). The Origin of Species. New York. Collier & Son. Facsimile digitale a cura di Open Library.
Un bell'esempio di facsimile digitale scaricabile in diversi formati (PDF, ePUB, Kindle e altri). Per di più si tratta di una bella edizione integrale di un grande classico della cultura moderna, L'origine delle specie di Charles Darwin. La visualizzazione originaria è gestita da un reader prodotto da Open Library. Molto potente e con diverse funzionalità interessanti, tra cui la ricerca nel testo, i segnalibri e il text-to-speech.
Multiformato, EN
[segnalato da: Mario Rotta, dicembre 2010]