archivi digitali
now browsing by tag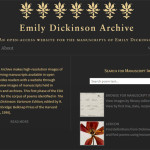 Un bell'esempio di Open Content: sono online gli Archivi di Emily Dickinson. Si tratta di un progetto molto semplice, ma estremamente utile per gli studiosi e gli appassionati, e più in generale per tutti gli interessati alla vita e all'opera della grande poetessa americana. Tutti i manoscritti originali della scrittrice sono stati digitalizzati, catalogati e resi accessibili attraverso un'interfaccia intuitiva, che permette di scorrere le carte in base al luogo di collocazione, all'edizione correlata e a vari altri parametri di ricerca e descrittori. Le carte possono essere visualizzate in forma originale (il facsimile digitale del manoscritto) o attraverso la loro trascrizione in linea. L'insieme è arricchito da un corposo lessico che può essere utilizzato sia per fare ricerche più accurate che a scopo didattico. Sarebbe bello seguire (sistematicamente e non sporadicamente) esempi come questo per rendere giustizia e restituire una memoria al lavoro di tanti autori italiani…
The Emily Dickinson Archive (EDA). A cura del Berkman Center for Internet & Society, della Harvard Library e di vari partner editoriali e istituzionali. Advisory Board: Leslie A. Morris, Sharon Cameron, Julia Flanders, Michael Kelly, Mary Loeffelholz, Cristanne Miller, Domhnall Mitchell, Martha Nell Smith, Marta Werner.
Formati: XHTML e altri formati aperti.
Segnalato da: Mario Rotta, ottobre 2013.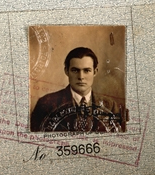 The Ernst Hemingway Collection Media Gallery. Archivio digitale a cura del John Fitzgerald Kennedy Presidential Library and Museum, Boston.
Una perla tra le tante perle di quella magnifica e lungimirante operazione che è la digitalizzazione completa degli archivi del presidente JFK: ora tra i materiali digitali c'è anche la collezione Hemingway. Si possono scaricare raccolte di articoli sul grande scrittore, documenti d'archivio e contributi di studio su cosa leggeva e cosa conservava nella sua biblioteca l'autore di tanti indimenticabili romanzi. Nella stessa collezione, si possono anche sfogliare gli album fotografici, presentati in forma interattiva con possibilità di ingrandire ed esplorare le immagini. E come se non bastasse, il tutto è liberamente riusabile.
XHTML +PDF, EN
[segnalato da: Mario Rotta, gennaio 2011]