Creative Commons
now browsing by tag
Bengtson A. (2010). À l'abordage. Une histoire de la propriété intellectuelle dans le cyberespace. BD Humour.
Si tratta di un libretto digitale senza particolari elementi di interattività (si clicca e si va avanti nella lettura e poco più) ma piuttosto interessante come esempio di eComics, ovvero fumetto digitale. Per di più il tema affrontato è la storia della proprietà intellettuale fino al cyberspazio, con tanto di pirati e morale della favola. Il tutto in chiave didattica. Semplice ed efficace, in un bianco e nero a tratteggio netto perfetto per un eBook reader.
PDF, FR
[segnalato da: Mario Rotta, dicembre 2010]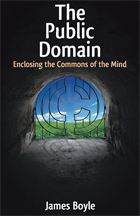 Boyle J. (2008). The Public Domain. Enclosing the Commons of Mind. New Haven – London. Yale University press.
Oltre che un testo fondamentale per affrontare il problema delle nuove modalità di disseminazione della conoscenza nello scenario digitale, il libro di Boyle merita di essere segnalato come esempio di ri-mediazione cross-mediale. A partire dall'impostazione tradizionale del libro, scaricabile in formato PDF ottimizzato per eBook Reader, si aprono infatti diverse possibilità di espansione e integrazione del contenuto, basate su un sito multimodale e che utilizza vari strumenti e diversi linguaggi per arricchire l'esperienza della lettura del volume.
PDF + integrazioni, EN
[segnalato da: Mario Rotta, novembre 2010]